How do I clear email from an account?
Use Horde Webmail to quickly clear individual email account inboxes.
Your webmail client, "Horde" is located at:
http://enter_your_domain/webmail
Enter your email address and email address password when prompted.


* If clearing your "default address" email account, see special note bottom of this page.


1. After logging into Horde and selecting "+ Mail" in the left column, click the "Folders" button top of page:

,
2. Check the folder you wish to clear, then choose "Empty Folders"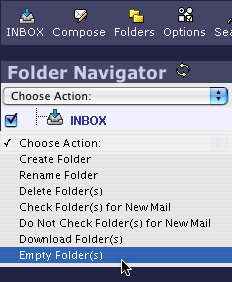 3. Reminder:
Also check the "spam" folder listed within the "Folders" button (step 1 above).
If you have spam filtering turned on, spam may be redirected into this folder. Deleting the "spam" folder should likewise reduce space usage indicated in your control panel. Yes, you may safely "delete" the "spam" folder instead of "emptying."

If you wish to autodelete spam sent to the "spam" folder, see the "SpamAssassin" settings option in your control panel. Note the text "To simply have the server DELETE and NOT deliver emails that are tagged as spam by SpamAssassin, click here. "

*Special note about your default email address:
Your "default" email account is a special account, so at Horde login instead of entering as your username your_email_account@your_domain_name, enter at login just your username and password (same as you would enter into your FTP software).