How do I manage my domain name's DNS?
Please log into your billing management account (My Account).

1. Click the "Total Domains" link right side of screen. Example:

 




2. Note the symbols to the right of your domain name. Example:

 



M = Manager
R= Renew


3. Choose (M) to manage your domain name settings. You will then see a screen that looks like this example: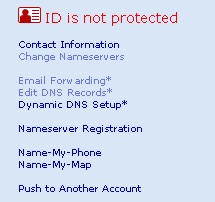 4. In order to manipulate the DNS for your domain name, you must first change the DNS setting to "Enom's Nameservers."
Click link, "Change Nameservers" to make this change.

5. Once you change your domain name's settings to "Enom's Nameservers" the "Edit DNS Records" link will appear (see above example).

6. Clicking the link "Edit DNS Records" will display a DNS Management screen.
Within the DNS Management screen you may change the A Record (where your web site is pointing too), the MX Record (where your email server is located), etc.


See the DNS Help link at bottom of the DNS Management page for additional instructions.